Swing into the Season with Festive Fun!
A Christmas Mini Golf Extravaganza for Horsham Families!
Experience a sensational Christmas in Horsham at Globetrotters Mini Golf & Games in Camping World! Dive into four captivating games suitable for all ages, creating unforgettable moments with your family. Don't miss this chance to craft lasting memories with your loved ones!
Around the World in 9 Holes of Mini Golf
Step into a magical world of miniature wonders as you journey through our
9-hole mini golf course. Each hole is a delightful ode to famous global landmarks, all dressed up in festive cheer!
Challenge your friends and family to fast-paced and exciting table tennis matches. Whether you're a beginner or a seasoned pro, our tables are here for endless enjoyment.
Bring your team spirit to our table football setup and engage in thrilling matches. It's a fantastic game to enjoy with friends and family, adding excitement to your visit to our Winter Whimsy wonderland.
Tossing Fun for All Ages!
Cornhole is a simple yet satisfying game – simply take turns tossing bean bags
toward the target board and hole. A great game for groups of all sizes and ages, it's sure to keep everyone entertained and laughing. First to score 21 points wins!
Go Crazy with 9 Holes of Mini Golf & More!
Mini Golf, Crazy Golf, whatever you like to call it, who doesn't love a cheeky round!?
Step into the heart of Globetrotters at Camping World and leave the weather behind. Our 9-hole mini golf course is a world of fun and a challenge that's perfect for you and your family.
Come to the fore and show us what you're made of as you putt your way through a course adorned with festive Christmas trees, creating a holiday atmosphere like no other. It's an invitation to escape into a world of pure enjoyment.
Embark on an extraordinary adventure, journeying through a mix of ancient and modern landmarks. From the iconic Great Wall of China and the mystique of the Pyramids of Giza to the elegance of the Sydney Opera House and the grandeur of the Arc de Triomphe – our mini golf course is a unique exploration of global wonders.
After your round of festive mini golf, there's even more fun to be had. Try your hand at table tennis, or challenge your family to a fiercely competitive game of cornhole. Don't forget to grab a bat and test your ping-pong skills! It's a day filled with exciting activities for everyone.
During your visit, keep an eye out for Humphrey the Camel. He may not offer golf tips, but he's always ready for a memorable photo! Join us for a day of unparalleled fun and adventure that will leave you with cherished memories.
Birthday Parties and Group Bookings
Celebrate your special occasion with us!
Got a birthday coming up and not sure what to do? Looking for an affordable staff outing this Christmas? Our crazy golf and games cafe is the perfect answer!
Treat your loved ones and colleagues to an unforgettable day with a round of challenging mini golf. Navigate quirky obstacles amidst Christmas decorations at the UK's largest indoor tent showroom. 
We are currently taking bookings for private venue hire at Camping World, available 8am – 10pm 7 days a week. We also offer on-site catering services for a fully stress free event. For all enquiries please send an
email to nick@globetrottersgolf.com.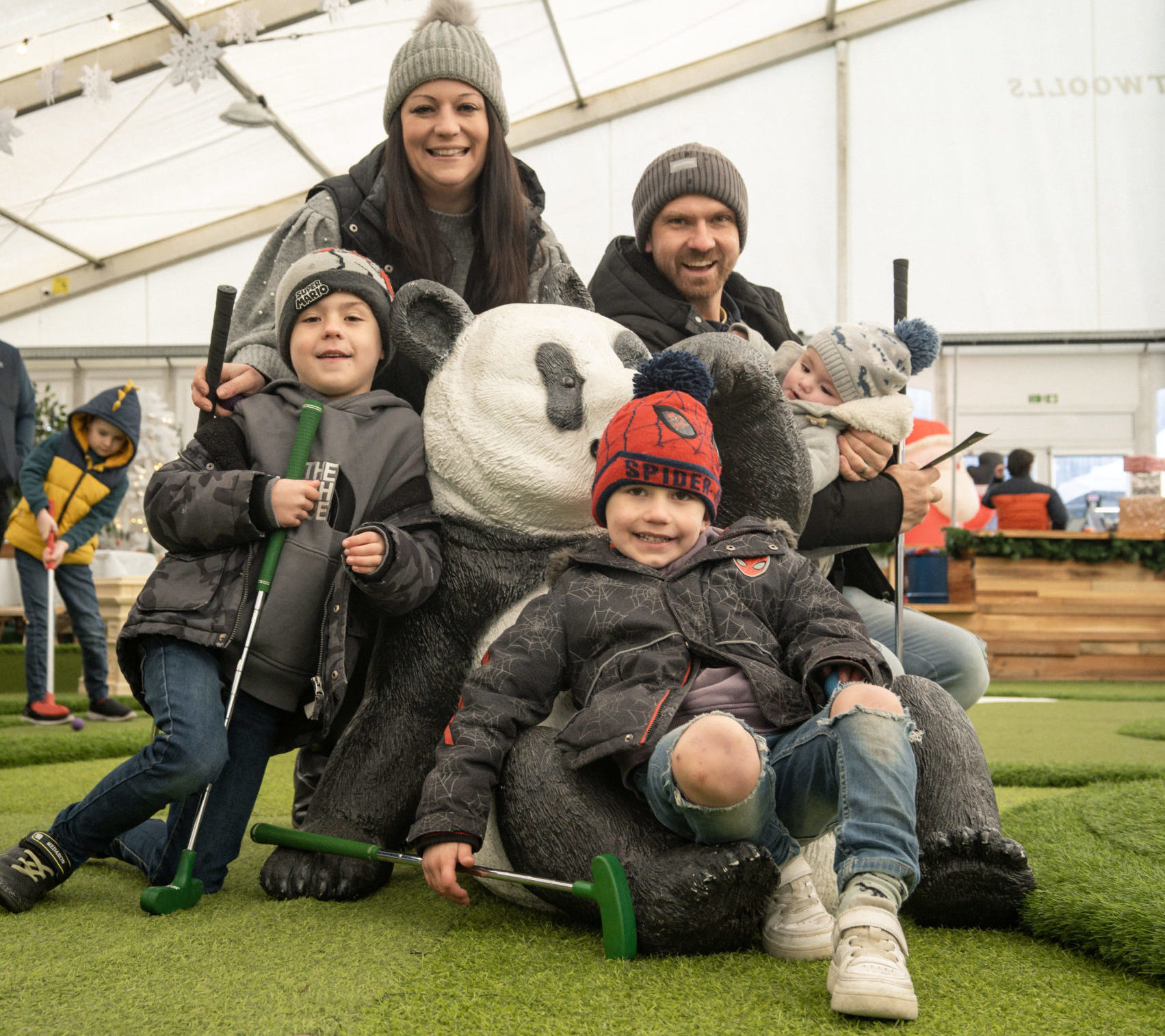 Enjoy a refreshing brew at the Globetrotters cafe – a.k.a the 10th hole!
Satisfy your cravings with scrumptious holiday treats and warm beverages, perfect for keeping cosy on those chilly winter evenings.
So whether you need a cold drink to cool off, a fresh barista coffee, a warming hot chocolate, or a sweet treat, we've got you covered! We also have a dedicated seating area to enjoy your refreshments and take the weight off, and just chill for a moment or two.
The grand opening of our pop up will be Friday 24th November. We'll be open every day until Sunday 24th December.
Opening times:
Monday – Saturday: 9am – 5:00pm
Sunday: 10:30am – 4:30pm
There are no age restrictions for this event, so bring the whole family! Ticket prices start from just £5 per person. Scroll below to book now for an unforgettable day!
Don't miss out! Tickets are expected to sell out fast for this event, so please use the booking feature below to avoid disappointment.
Hornbrook Park
Brighton Road
Horsham
RH13 6QA
Have a question? Ask us anything on our FAQ page: