Globetrotters Mini Golf is Coming to Camping World Horsham!
Discover Horsham's first ever mini golf course, at Camping World for a short time only.
Join us for a round of mini golf at the largest indoor tent display in the UK. We're here from 29th April – 24th May – don't miss it!
Go crazy with 9 holes of Mini Golf
Mini Golf, Crazy Golf, whatever you like to call it, who doesn't love a cheeky round!?
Come and experience our 9-hole global adventure themed mini golf course with many inspirational landmarks and character from around the world. Globetrotters Mini Golf at Camping World is all about bringing families and Horsham locals together for some mini golf fun. It's that simple!
We don't take ourselves too seriously, but one thing we are passionate about curating events that provide fun for all the family. Join us on an adventure through a range of ancient and modern landmarks. From the Great Wall of China and the ancient Pyramids of Giza, to the Sydney Opera House and Arc de Triomphe – there's no other mini golf course like it!
Look out for Humphrey the Camel on your visit, who makes a great photo, but won't help you with any golf tips unfortunately!
Looking for something fun to do with the family? Look no further!
Whether you're a seasoned pro or you've go no putting clue, our course is for you. Mini golf is one of the few activities that the whole family can do together, and we love to see the parents/grandparents getting just as competitive as the kids!
The great thing about our mini golf pop up is that Camping World is located in the Hornbrook Park retail park and benefits from plenty of free parking. Also on-site is the bustling Hillier garden centre and farm shop and makes it the perfect place to while away a few hours with the family in Horsham.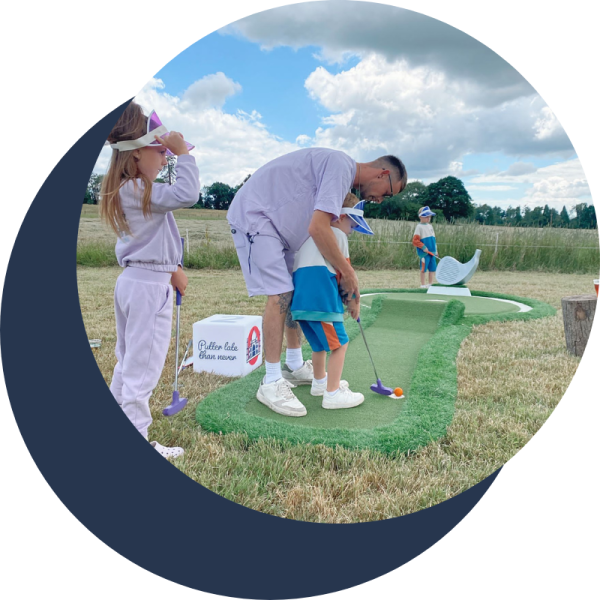 So what is Camping World?
Discover what you can find at the UK's no. 1 camping store
Globetrotters are proud to partner with Camping World. Their flagship retail store is situated in Horsham and consumers come from all over the country to visit the UK's largest outdoor tent display.
Stocked with all your camping and outdoor needs, now you can putt your way around our 9-hole global adventure themed course in a chance to top the prestigious leaderboard!
For more information about Camping World and to stay up with the latest news, go to their website.
There are no age restrictions for this event, so bring the whole family!
The grand opening of our pop up will be Saturday 29th April.
We'll be open every day until Wednesday 24th May.
To play, either book a slot online in advance or you can just turn up on the day.
Opening times:
Mon – Sat: 9am – 5:00pm
Sun: 10:30am – 4:30pm
Don't miss out! Tickets are expected to sell out fast for this event, so please use the booking feature below to avoid disappointment.
Enjoy unlimited rounds of mini golf all day Monday – Thursday, all for the price of one round!
We love hosting groups no matter the occasion! Globetrotters is the perfect destination for family get togethers and birthday parties. 
Send us an email to hello@globetrottersgolf.com and we'll make sure you have an extra special day.
Hornbrook Park
Brighton Road
Horsham
RH13 6QA
Abigail Palmer
Private Hire 2022
We ran a summer festival at our workplace which included Globetrotters Crazy Golf set up in our car park. Globetrotters came to check the ground well in advance, set up the previous day, and packed up straight after the event. They were very well organised, friendly staff who were easy to deal with. The golf course was brilliantly decorated and themed. We got great feedback from our staff who enjoyed playing even through some periods of downpour. Great for workplace events due to the fun, competitive nature of crazy golf. We would definitely use them again. Thank you!
Fay van der Westhuizen
Brighton Christmas Festival 2021
We booked Globetrotters as part of our work christmas party and it was brilliant! Great fun, a great course and Nick and Daisy were super friendly. I would recommend to anyone wanting somthing fun to do with friends or family, or for a fun work event. Great price as well 🙂
Nick Bailey
Brighton Fringe 2022
Had a fantastic day out at the brighton fringe pop up. Great food, drinks and music in the sun ☀️
James Stenning
Brighton Fringe 2022
Cheeky cocktail and crazy golf ... what's not to love?!
Gordon Lee-Fisher
Brighton Christmas Festival 2021
Thank you Nick & Daisy - we had a great time had with some quality family 'time out' with @globetrottersgolf this evening in Brighton's Christmas Festival. And some delicious hot apple fireball drinks from their neighbouring pop-up!! Looking forward to the next one! 👍⛳️🎄
Craig Open
Missing Link Brewery 2022
We had a really fun day with Globetrotters at missing link brewery. They were more than helpful from start to finish and great with the kids as well. I would highly recommend a day out wherever they are or for a private hire. ⛳️
Michael Joyce
Tilgate Park 2022
Had a great afternoon at Globetrotters at Tilgate Park. Challenging course with well placed obstacles - very fun! Would love to see these guys come back again.